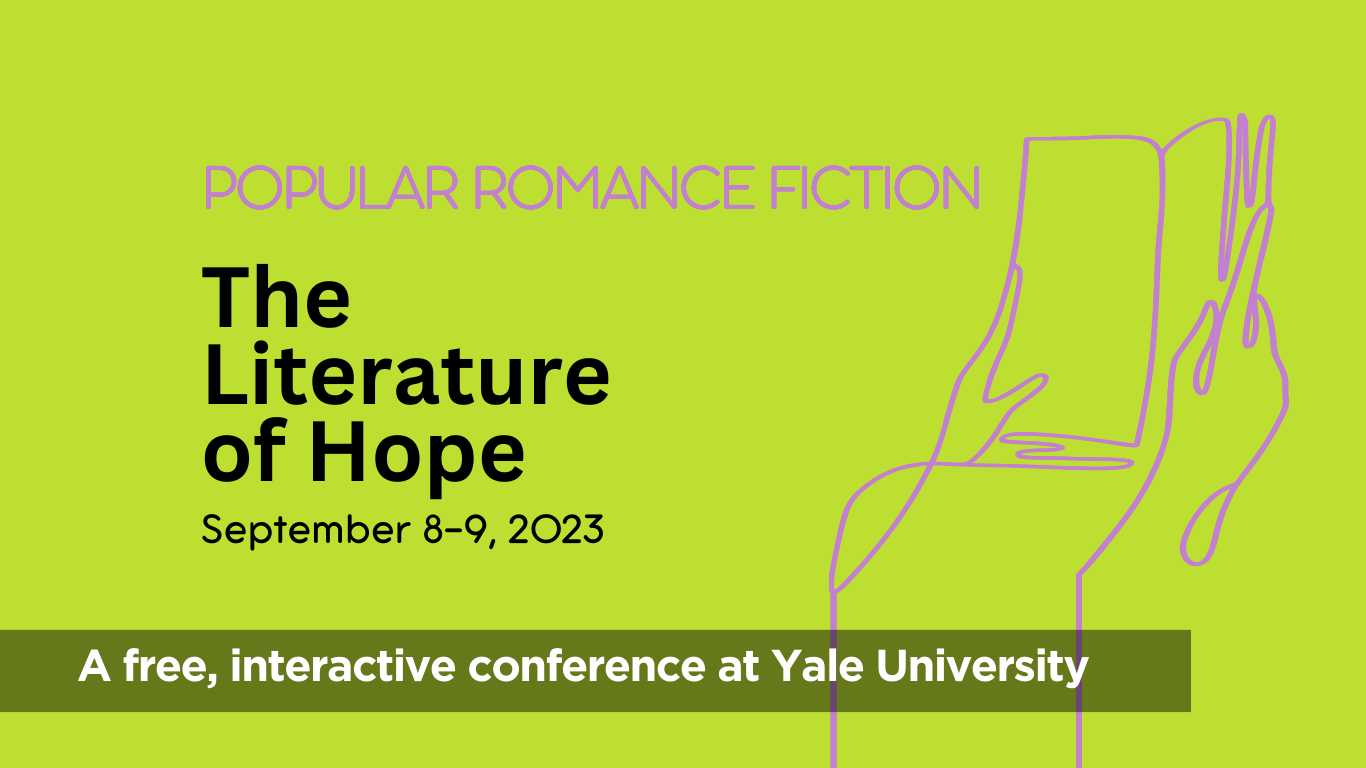 Please note that we have reached capacity and have closed registration. We will be admitting people on a first come, first served basis with registration. Non-registered guests may be admitted, space permitting (if you're interested, please show up and we'll do our best to admit you!) 
Popular Romance Fiction: the "Literature of Hope" is a conference event occurring on Friday, September 8 - Saturday, September 9, 2023 at Yale University. This interactive gathering brings bestselling romance writers together with scholars, students, readers, and the public for two days of conversation and events at Yale and in the New Haven community about the nation's most popular literary genre. Through discussion panels, a romance writing workshop,  documentary screening, historical exhibition, Elm City LIT Fest collaboration, a special keynote event, and more, we examine romance fiction in expansive ways that move at and beyond its surface appearances, exploring its political, material, racial, feminist, and religious histories and manifestations. Confirmed speakers include Roxane Gay, Adriana Herrera, Eloisa James, Beverly Jenkins, Julie Moody-Freeman, Sarah MacLean, Radclyffe, and others.
Popular romance fiction has for decades been the single biggest market force in contemporary U.S. publishing and the only billion-dollar industry therein (Romney 2021). Record-breaking romance novel sales during the COVID-19 pandemic, including a 52% increase in U.S. print sales in 2022 (bucking overall book trends), underscore what writers and readers have long claimed: that romance is "the literature of hope." Ongoing seismic shifts in romance–including renewed attention to Black writers and books, more visible presence of LGBTQIA authors and stories, institutional confrontations with white supremacy, heterosexism, and Christian-centrism, the advent of new marketing and publishing platforms such as #BookTok, Radish, and Kindle Vella, and more–raise questions about the genre, its impact on civil society, how the "literature of hope" is authored, and for whom. Through conversation and exchange with scholars whose expertise in Black studies, popular romance studies, education studies, book history, political science, religious studies, and more identify sites of generative construction, critique, and intervention, this conference examines romance as a site of dynamism, challenge, change, and possibility.
---
The conference is generously supported by the Black Feminist Collective at Yale University, Edward J. and Dorothy Clarke Kempf Memorial Fund, Faculty of Arts and Sciences, Yale Center for the Study of Race, Indigeneity, and Transnational Migration, 
Whitney Humanities Center, Afro-American Cultural Center, Poynter Fellowship, African American Studies Department, English Department, Religious Studies Department, Education Studies, Women's, Gender, and Sexuality Studies, Public Humanities at Yale, Beinecke Rare Book & Manuscript Library, Material Histories of the Human Record, Dean's Symposia Fund, Marquand Chapel, Institute of Sacred Music, Yale Divinity School, Film and Media Studies, and faculty support. 
This is an inclusive and welcoming event. If you have questions about accessibility or would like to request an accommodation, please include your requirements with your registration form or contact the conference organizers at yaleromancefic@gmail.com. Requests should be made by August 25 to allow for coordination of services.